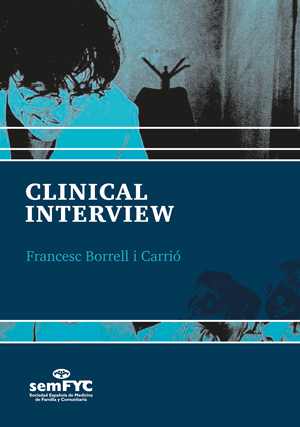 Resumen
Patients do not have any obligation to be the good patients that practitioners want.

We must know our tolerance to 'uncertainty' (critical strain), and the pressure that patients sometimes put us under ('to heal me!'), to give ourselves more time and not to prematurely finish the consultation.
Índice
Good quality data for making good diagnoses
Key Ideas
Patients do not have any obligation to be the good patients that practitioners want.

We give more value to strategies to simplify and shorten the interview time, than strategies which minimise the risk of clinical error.

The history taking should not end until the clinician is able to write a report specifying, at least, the chronology and nature of the problem.

History taking by pathographic viewing: chronology (film of events), plot (soundtrack, what happens), impact (relieving factors).

We need to automate groups of questions, depending on the clinical situation, so it hardly requires us any effort to put them into practice, in particular what we call the 'psychosocial jump'.

The physical examination is part of the interpersonal relationship and it begins when a patient enters the consulting room. By listening and observing, we are already examining the patient.

We must know our tolerance to 'uncertainty' (critical strain), and the pressure that patients sometimes put us under ('to heal me!'), to give ourselves more time and not to prematurely finish the consultation.

Pathology of frequent attendance: 'you come so often, I often disregard you'.

Starting from scratch with a frequently attending patient is a true exercise of humility!

Being careful in formulating a diagnosis gives us the freedom to modify it more easily in the future.

What is the main bioethical challenge of a clinician? getting up from the chair to assess patients over and over again!
Remember, for risk behaviours:
---
Start history taking the history in a way that doesn't cause friction: 'what do you drink while having lunch?' or if assessing suicide risk: 'do you think that life is worth living?'

While having a conversation, be very clear: 'how many liqueur coffees do you have in the morning?' or: 'have you made any plans to harm yourself?'

At some point comment: 'It is very common to talk about/examine this, don't worry'. What is normal for you will seem normal to the patient.
---
Advanced Concepts
Generally, the different phases of the interview analysed up to here take a very short amount of time. We greet the patient, we find out the presenting complaint, and in less than a minute we proceed to the verbal exploration. In the initial moments of the interview, the interviewer will have proceeded to obtain the readymade information, and apply techniques of narrative support. From the initial information; the interviewer will have generated their first hypothesis trying to answer two important questions: 'What is happening to the patient?', and 'what am I expected to do?' This is the framing or the interview's intention. The interviewer will start making assumptions in an automatic way (hypothesis generating), and from them they will produce an interview plan (Burack RC, 1983; Esposito V, 1983; Boucher FG, 1980). In the following pages we will see the necessity of combining these hypotheses and thoughts (advanced interview plan) with a basic interview plan. Following this and using the data we have obtained, we need to apply a process to decide which hypothesis to keep. This is a highly complex process where we combine two types of thought: intuitive thought (or thought guided by analogies and similarities) and thought guided by criteria. Finally, we will examine the bio-psycho-social model and what it brings to the diagnostic task.
Drawings in the mind
One of the most important challenges we face in the clinical interview is whether different clinicians obtain a similar diagnosis in the same patient and clinical situation. Studies on the subject are named diagnostic variability studies and they cover the fields of both medicine and nursing. We have the impression that one of the key elements which explains the differences between clinicians when analysing their patients' problems is the way in which they learn, or expressed another way, by the images in their mind of the different problems or clinical situations. Let's briefly examine this point and we will also give some pointers on how we can share these mental drawings more efficiently, which is so important when interpreting the clinical reality.
First statement: when we try to understand a clinical situation, we don't use an intuitive method. It is not true that we collect data and a diagnosis or a way of describing the problem just appears in front of us. We always have a few previous schemes or models, which we use to interpret the reality of the situation. Knowledge, as Popper understands, is always reasoned (Popper K, 1972). Due to this, for many years doctors have been applying all kinds of diagnoses to patients with fibromyalgia, and we now probably see patients who in the future we will group under different headings. We only see what we are prepared to see. We only see what we somehow already have in our brain as a model.
Second statement: when we see a particular patient we only apply a part of what we know. This paradox is similar to the student that finds a multiple choice exam easier than an exam with short answer questions. In the first case 'how things sound' is more than enough to answer the question; in the second case, the student has to summarise their knowledge to explain it in a reasoned manner. It is another way of studying. Similarly, the clinician has to summarise what they have learnt to use the information and explain this to the patient. As Schon (1987) points out there is a knowledge in action, almost automatic knowledge that we can retrieve in front of the patient; and on the other hand, there are many skills that would be able to retrieve in an exam, but that we are unable to retrieve in front of a patient. Think how much it takes you get used to prescribing a completely new medication out of habit, and how many times you have to look at the BNF to reassure yourself. Or how dangerous is to interpret an x-ray in front of the patient, during the consultation, compared at the end of the clinic and we have our time entirely dedicated to it.
There are two consequences of this approach: on the one hand, in relation to how to study, and on the other, to how to plan the interview to get the best result.
Study clinic. A way to study clinical skills (keeping with the idea of 'knowledge in action') is the technique we term package to use. Table 3.4 shows an example of a case of fibromyalgia, and how a clinician without expertise performs the clinical reasoning for it, from the literature he reviews. The table is not intended to be a review of the condition, but it illustrates the discursive process we propose
Planning the interview. The second factor we touched on is that we have to give ourselves time to obtain quality data, without rushing into trying to make a diagnosis and 'knowing what to do as soon as possible'. To do this we have to combine a basic plan (the essential tasks), with an advanced plan (tasks that occur on the basis of materials provided by the patient). Let's look at this in more detail.
Table 3.4.
Package to use: fibromyalgia as an example
When I shall suspect it: in cases of diffuse pain, pain without a definite cause, pain which is expressed in a dramatic manner, polymyalgia in patients with insomnia or patients with a weary or depressed appearance.
Verification points: pain in 9 of the 18 standard points, with discomfort for at least three months, ask about sleep and mood, but without causing resistance, exclude arthritis, fever and systemic symptoms...
Conditions which present similarly: depression or emotional distress, polymyalgia rheumatica, systemic diseases.
In my case, I have the following difficulties with the assessment: I am unclear of the exact location of the fibromyalgia points and the pressure I need to use to assess them. It is urgent that I learn this with an expert. Until this aspect is clear I am not in a position to make this diagnosis.
Red flags in communication with the patient: I should avoid frightening the patient by using the word 'fibromyalgia', because the patient may associate this term with a serious illness.
Red flags in diagnosis: I should not use the diagnosis before confirming biological normality.
Treatment options: first choice, low dose amitriptyline; second option: muscle relaxants and other selective serotonin reuptake inhibitors (SSRIs).
Red flags in treatment: not having in depth knowledge of the use of this drug and how patients should respond to treatment and the side effects. Nor do I know the next step if amitriptyline is not effective. Before proceeding to treat the patient, I must clarify these points.
This example simulates how a clinician who does not know this disease packages the information in order to use it in a specific clinical situation.
Basic and advanced interview plan
Imagine a clinician trying to discern the nature of chest pain in a 23 years old patient without any risk factors. 'The pain goes from my stomach, up to my chest and it feels very tight, I am worried it is my heart' says the young man. How does the clinician rule this out?
On one hand, he has a basic interview plan that must be completed: 'active listening', a 'focused history' package, and a basic physical examination. But as he progresses in the focused history package, diagnostic hypotheses occur to him: 'and if he had oesophagitis?' This scenario raises the question: 'when you go to sleep or you lie down, do you feel acid coming up into your mouth?' Therefore, we construct our listening and our questions from two types of leads:
A very generic lead (the left part of Figure 3.2) which indicates large areas and issues that need to be addressed: how, when and where of the pain, factors that exacerbate or relieve it, the patient's beliefs, etc.

A specific lead to diagnostic hypotheses which appear as being plausible. For example: 'this pain could be due to pericarditis, therefore I have to ask, etc.'
Figure 3.2 shows how combining the basic and advanced plans leads to the interview finally carried out.
Therefore, the interview plan is changing at every bend in the road, depending on both the verbal exploration and the exploratory data arising. And here is where a good clinician overcomes three pitfalls to produce the data.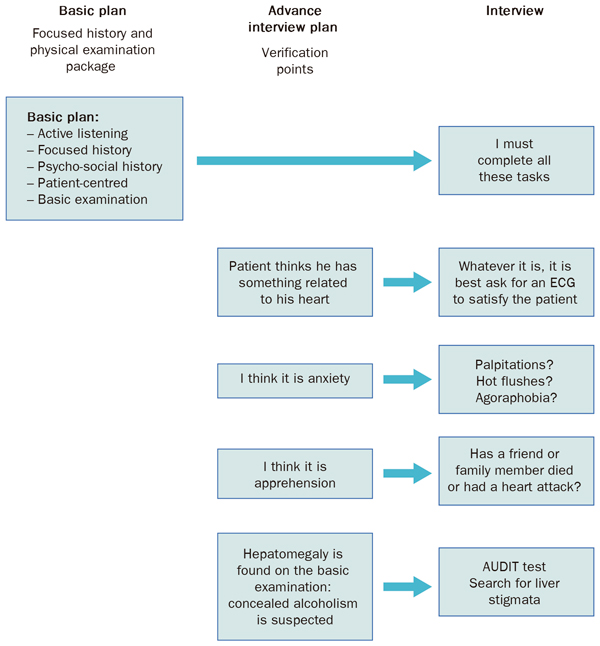 Figure 3.2.
Basic and advanced interview plan: verification points.
Three difficulties in interpreting and formulating clinical data. Concept of critical stress
There are three obstacles we must overcome when we produce the data which we have collected in the history taking and physical examination (Table 3.5).
Table 3.5.
The three obstacles to making a good interview plan
Reconcile and complete the basic interview plan with the advanced interview plan. Avoid insights and field dependent trends.

Perform reframing of the first hypothesis. Overcome your reluctance and laziness in order to 'rethink' the patient.

Delay the resolution of the interview. Withstand critical tension.
Firstly, we have to avoid the temptation of 'taking shortcuts', either via intuition or by forgetting (in the example above, we may forget about the chest pain if we become too focused on the epigastric pain). These shortcuts sometimes lead us to not complete the basic plan; for example, we find tonsils covered in pus and then do not examine the chest.
A second pitfall consists of overcoming our laziness, in order to deny the first hypothesis. In the case below (Figure 3.2) the first hypotheses are: The patient's anxiety or apprehension. But on performing the basic examination, the doctor finds hepatomegaly. Is the doctor required to modify his first hypothesis? That always represents a major effort. This crosses his mind: 'Am I in the presence of two diseases, chest pain and hepatomegaly? Or only one disease? For example: Alcoholism which has resulted in anxiety and various somatisations?' But he also thinks: 'maybe the hepatomegaly does not have any significance, and if I ignore it, it will save me a lot of effort'. There is always a dormant desire to end the interview as soon as possible.
Table 3.6.
High and low level heuristics.
Low level
Very little reflection or elaboration by the subject.

They are usually learned in early life or early in training.

They are comfortable to apply, with low energy consumption.

They are often the «minimum» that should be done in a particular situation.
High level
They appear after conscious reflection, i.e., doubting the first rules of decision (those rules of decision making which constitute 'tacit knowledge')

They respond to a more sophisticated analysis of the situation, and in general they foresee unfavourable courses which had not previously been considered.

Their application consumes more mental and physical energy.
 At this point, we would like draw the reader's attention to a phenomenon we call a fall of heuristics. When fatigue, time pressure, a heavy workload or a flood of emotional feelings such as anger, shame or resentment assails us (table 3.7) we may experience what we call a 'heuristic fall', and we would want to solve a clinical situation by applying decision rules which require little energy investment. At this point, low-level heuristics show up. If we use a psychoanalytic term, we could say that we suffer a regression, since we have to use a rule of action that we learned in the initial stages of our training.
Table 3.7.
Factors limiting our performance
Lack or excess of emotional activation
Fatigue

Transient cognitive problems (for example; sleep disorders, alcohol consumption, etc.).

Lack of motivation

The professional rushes to finish the consultation and start another activity.

Feeling overwhelmed, feeling we can't cope, many sensory stimuli at the same time.

Being flooded by other extreme emotions, whether positive or negative.
Lack or excess of hedonic tone
Hostility of the patient.

Hostility of the professional them self.

Somatic discomfort or pain of the clinician.

The expectation that if a particular hypothesis is confirmed, it will create more work.

Allowing ourselves areas of magical thinking: for example 'I am not going to now think he may have cancer as he is such a nice person!'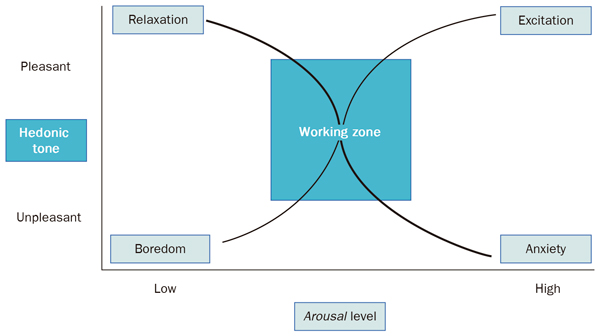 Figure 3.6.
Apter's Theory of emotional investment. The golfer who repeatedly fails will move from excitation to anxiety. Another player who is excessively relaxed will get bored. The intensity of the emotions influences how we classify them.
Table 3.9
Biopsychosocial focus: proposals for practice
The clinician considers their target to achieve an intrinsically therapeutic emotional component in the established relationship.

The clinician legitimises any reason for consultation, not just the biomedical or psychosocial problems which are validated with a diagnosis (depression, bulimia, insomnia...).

The clinician distinguishes between health demand and health need and apply macro-models where the psychosocial and biological aspects are considered.

The clinician has an ethical duty to not lie about what they know of the patient, except for situations where not withholding this information would be more harmful. They also have the duty to place their own agenda in the care relationship and influence the patient's beliefs about the best therapeutic options, being aware not to cross explicit limits the patient has set. Sometimes this principle represents the courage of raising the psychosocial origin of certain somatisations, breaking cycles of chronic medicalisation or iatrogenic problems, but always avoiding causing a greater evil than the condition that we are trying to alleviate.

The clinician facing a diagnosis with some complexity applies a methodology that initially avoids taking position towards either exclusively biological or exclusively psychosocial diagnostic hypotheses, i.e. avoids focusing on only one aspect of the case.

The clinician will wherever possible, have the social and family perspective of their patients, and will appreciate the patients' social support networks.

The clinician will apply rational decision techniques based on evidence, but also being aware of the biases introduced by their own emotions. The dangers of making mistakes when seeing 'heart sink' patients are huge.

The clinician must get used to periods of uncertainty, during which he must not give in to the temptation to give meaning to symptoms from non definitive data. There is no 'closed case'. Each patient is a reality in constant evolution. If we don't give the patient the opportunity to surprise us 'now', he will also surprise us tomorrow.
Bibliography
Apter MJ, Reversal Theory: Motivation, Emotion and Personality. Londres: Routledge, 1989. Aseguinolaza L, García-Campayo J, Tazón MP, Grupos Microbalint. En: Tazón MP, García-Campayo J, Aseguinolaza L, eds. Enfermería. Relación y Comunicación. Madrid: DAE, 2000.
Barragán N, Violan C, Martín Cantera C, Ferrer-Vidal D, González-Algas J. Diseño de un método para la evaluación de la competencia clínica en atención primaria. Aten Primaria. 2000 Nov 30;26(9): 590-594.
Borrell F, Sunyol R, Porta M, Holgado M, Bosch JM, Jiménez J. Capacidad para detectar y registrar problemas de salud, en relación a la calidad de la entrevista clínica. I WONCA European Regional Conference on Family Medicine. Barcelona, 1990.
Borrell F. Exploración Física Orientada a los Problemas Aten Primaria 2002; 30(1): 32-45.
Borrell F. CD ROM: Exploración Física Orientada a los Problemas-CD-ROM I. FMC Noviembre 2002. Boucher FG, Palmer WH, Page G. The evaluation of clinical competence. Can Fam Physician 1980;26: 151-152.
Burack RC, Carperter RR. The predictive value of the presenting complaint. J Fam Pract 1983; 16(4):749-754.
Engel G. The need for a new medical model: a challenge for biomedicine. Science 1977; 196 (4286): 129-136.
Engel G. The clinical application of the biopsychosocial model. Am J Psychiatry 1980; 137(5):535-544.
Epstein RM. Mindful Practice. JAMA 1999; 282(9): 833-839.
Esposito V, Schorow M, Siegel F. A problem oriented precepting method. J Fam Pract 1983;17(3):469-473.
Esteve MR. Teoría de la decisión (II): el teorema de Bayes. En: Godoy A. Toma de decisiones y jui- cio clínico. Madrid: Pirámide, 1996; págs. 215-221.
Gask L, Goldberg D, Lesser AL, Millar T. Improving the psychiatric skills of the general practice trai- nee: an evaluation of a group training course. Med Educ 1988; 22: 132-138.
Gross DA. Patient satisfaction with time spent with their physician. J Fam Pract 1998; 47(2): 133. Khon LT, Corrigan JM, Donaldson S. To Err is Human. Building a Safer Health System. Institute of Medicine. Washington DC: National Academy Press, 2000.
Kraytmann M. El diagnóstico a través de la historia clínica. Madrid: IDEPSA, 1983.
Prados JA, Muñoz E, Santiago JM, Cebrià J, Bosch JM, Peguero E, Borrell F. Evaluación de la compe- tencia en Habilidades de exploración clínica de los Médicos de Familia en situación real: Capacidad de detección de signos en pacientes con hallazgos clínicos confirmados previamente. Influencia en el manejo Diagnóstico-terapéutico. FISS 2003.
Ratey, JJ. El Cerebro: manual de instrucciones. Barcelona: Mondadori, 2002; pág. 270.
Shea SC. La entrevista psiquiátrica. El arte de comprender. Madrid: Harcourt Saunders Elsevier Sciences, 2002.
Suñol R. Correlación entre los procesos y los resultados de la Entrevista Clínica: su aplicación a los programas de calidad en Atención Primaria. Tesis Doctoral, Universidad Autónoma de Barcelona. Barcelona, 1992.